Why Saudi Arabia keeps pumping oil when low prices are hurting its economy
Taxes on sugary drinks and tobacco, 40 per cent increases on the price of petrol and lower subsidies for water and electricity: the low oil price has taken its toll on Saudi Arabia.
The kingdom has announced a raft of public spending cuts after it logged a record $98 billion deficit in 2015.
King Salman of Saudi Arabia said the reforms come "in light of decrease in oil prices and many challenges".
Saudi Arabia had a chance to limit production of oil on December 4, at a meeting of the Organisation of Petroleum Exporting Countries, a cartel of 13 nations (not including the US) that exists to stabilise oil prices.
OPEC refused to put a lid on production and the oil price has continued to slide since, now hovering around $37 a barrel.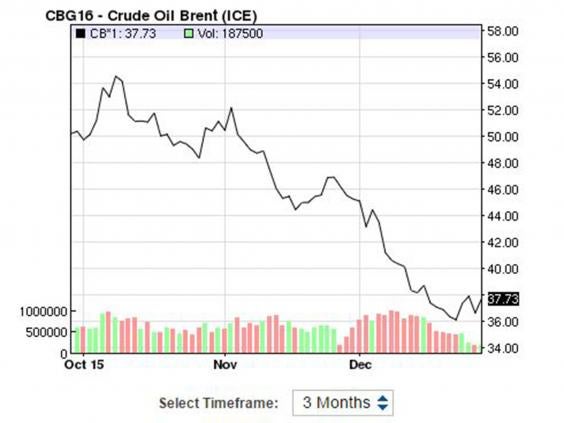 Why didn't Saudi Arabia cut production – and shore up prices – when it had the chance?
Some energy analysts see the kingdom's continued overproduction as an attempt to bankrupt US shale oil producers that emerged with the advancement of fracking technology.
"At one time the marginal drillers in North America were completely unprofitable. With the return of fracking, oil rigs in US were deployed again. Saudi Arabia is now looking to destroy them," Danilo Onorino, portfolio manager at Dogma Capital, told the Independent.
Saudi is also wary of cutting production itself for fear that other OPEC producers will not follow ist lead. The Saudi Royal family has hinted at this.
A year ago, Saudi Prince Alwaleed Bin Talal Al Saud said: "If we reduce our production some other countries will fill that gap."
He told Bloomberg that Saudi Arabia isn't happy with low prices, "but it's something you have to face head on without hesitation."
By flooding the world with oil, OPEC and Saudi Arabia have put pressure on its competitors in the US.
The price of brent crude oil is so low that US shale oil producers have been forced to cut their output and costs by improving technology and concentrating on core areas.
Now time may be running out for US oil producers.
Dr. Michael Haigh, global head of commodities research at Société Générale, said that "the necessary rebalancing" – when the price of oil stops falling so dramatically – "has started and will continue".
That rebalancing is coming from a drastic reduction in US oil production.
The US is expected to reduce production next year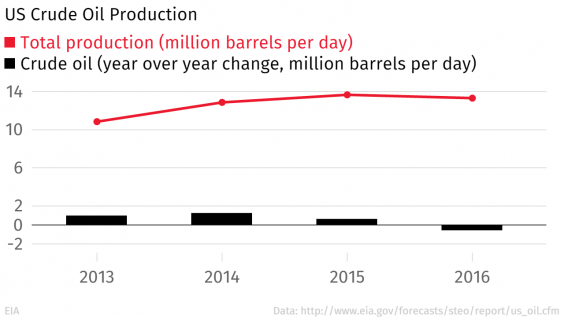 The US Energy Information Administration has said that US crude oil production will decrease by half a million barrels a day in 2016 as companies cut production or go bankrupt.
Some 16 US oil production companies defaulted in 2015. More are likely to go in 2016 as the pressure of producing more and spending less becomes too much.
"Saudi Arabia can suffer a little bit, because it knows that by suffering it will clean up the market, from producers to services," Onorino said.
But it's a dangerous game. In October, the IMF said that Saudi Arabia could be bankrupt within five years if it did not look to diversify its revenue.
Saudi Arabia got 73 per cent of 2015 revenue from oil. It is not immune to the impact of persistently low prices.
The latest budget announcements show Saudi Arabia cannot afford to suffer forever.
Source: story by Hazel Sheffield, published on December 29h by independent.com.uk